The Keneder Adler and Yiddish community life in Montreal, 1944
Abstract
Rabbi Pinchas Hirschprung became a towering figure in the Montreal Jewish community during a time when Yiddish functioned as the Jewish lingua franca. In 1944, The Keneder Adler both serialized his memoir, Fun Natsishen Yomertol: Zikhroynes fun a Polit (From the Nazi Vale of Tears: Memoirs of a Refugee) and printed it in book form. This study offers a snapshot of this rapidly changing community of 1944 through a close study of its newspaper, The Keneder Adler, including coverage of the liberation of the Nazi death camps, community responses, and new local community educational initiatives.  
References
Alex Pomson, "Jewish Day-School Growth in Toronto: Freeing Policy and Research from Conventional Sociological Wisdom," Canadian Journal of Education 27, no. 4 (2002): 386. DOI: https://doi.org/10.2307/1602241
Jack Lipinsky, "1944: a Preview of Much of What Would Follow" Canadian Jewish Studies XXVII (2018). DOI: https://doi.org/10.25071/1916-0925.40106
Janice Arnold, "Rabbi Leib Kramer Commemorated," Canadian Jewish News, 9 December 2010, http://www.cjnews.com/news/canada/rabbi-leib-kramer-commemorated, www.youtube.com/watch?v=S8RPn1Qti18.
Mark Bourrie, The Fog of War: Censorship of Canada's Media in World War II (Toronto: Key Porter Books, 2011).
Pinchas Hirschprung, The Vale of Tears, translated into English by Vivian Felsen (Toronto and Montreal: Azrieli Foundation, 2016), xxvii.
Randal F. Schnoor, "The Contours of Canadian Jewish Life,"Contemporary Jewry 31 (2011): 183. DOI: https://doi.org/10.1007/s12397-011-9075-6
Raymond Davis, "Nito di pen tsu kenen shildern shreklekhn masnshtob fun Hitlers farbrehn kegn Yidn," Keneder Adler, 1 September 1944, p. 2.
Rebecca Margolis, Jewish Roots, Canadian Soil: Yiddish Culture in Montreal, 1905-1945 (Montreal and Kingston: McGill-Queen's University Press, 2011), 39-74.
Rebecca Margolis, "A Review of the Yiddish Media: Responses of the Jewish Immigrant Community in Canada." In Ruth Klein, ed., Nazi Germany, Canadian Responses (Montreal and Kingston: McGill-Queen's University Press, 2012), 114-143.
Rebecca Margolis, "Hitler in Kinderland: Holocaust Writing for Children in the Canadian Yiddish Press: 1938-1945." In The Holocaust and World War II: In History and In Memory, ed. Nancy Rupprecht and Wendy Koenig (Newcastle upon Tyne, UK: Cambridge Scholars Publishing, 2012), 130-156.
Rona Sheramy, ""Resistance and War": The Holocaust in American Jewish Education, 1945-1960," American Jewish History 91, no. 2 (2003): 194. DOI: https://doi.org/10.1353/ajh.2004.0058
http://www.yiddishbookcenter.org/collections/yiddish-books/spb-nybc207731/hirschprung-p-fun-natsishen-yomertol-zikhroynes-fun-a-polit/spb-nybc207731.
"Statistics of Jews," American Jewish Year Book, 1946-1947, http://www.ajcarchives.org/AJC_DATA/Files/1946_1947_13_Statistics.pdf.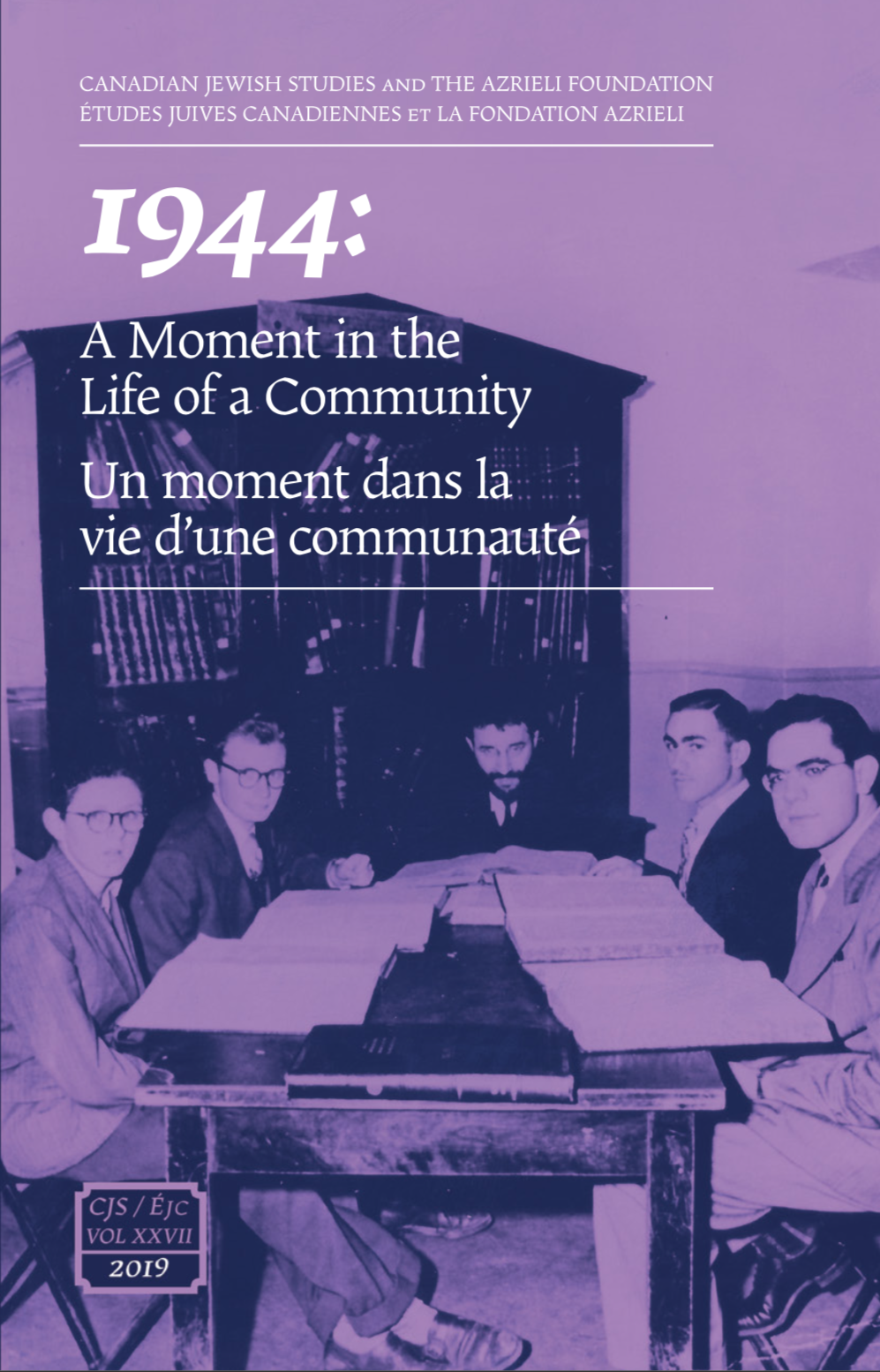 Downloads
How to Cite
Margolis, R. (2019). The Keneder Adler and Yiddish community life in Montreal, 1944. Canadian Jewish Studies / Études Juives Canadiennes, 27. https://doi.org/10.25071/1916-0925.40107
Section
Articles / Articles
License
Canadian Jewish Studies/ Études juives canadiennes is a journal dedicated to the open exchange of information; therefore the author agrees that the work published in the journal be made available to the public under a Creative Commons Attribution-Noncommercial-No Derivative Works 3.0 Unported License. The publisher (Association for Canadian Jewish Studies / Association des Études juives canadiennes) recognizes the author's intellectual property rights. The author grants the publisher first serial publication rights and the non-exclusive right to mount, preserve and distribute the intellectual property. The journal is digitized and published on the open access website  http://pi.library.yorku.ca/ojs/index.php/cjs/index.