Rome Among the Bishops: An Immigrant Jew Explores The Unknown Worlds of French Canada
Sharon Gubbay Helfer

Institute for Canadian Jewish Studies, Concordia University
Keywords:
David Rome, Canadian Jewish history, Jewish-Christian dialogue, Quebec (province), 20th century
References
Abella, Irving, and Harold Troper. None Is Too Many: Canada And The Jews Of Europe 1933-1948. 1st ed. Key Porter Books, 2002.
Anctil, Pierre, April 24 and May 9, 2009, interviews with the author.
Anctil, Pierre. "A Community in Transition: The Jews of Montréal." Contemporary Jewry 31, no. 3 (June 25, 2011): 225–245.
Anctil, Pierre, and Ira Robinson, eds. Communautés Juives De Montréal (Les): Histoire Et Enjeux Contemporains. Septentrion, 2011.
Chartrand, Luc, March 26, 2009, interview with the author.
Comtois, Paul. "Arrêt en conseil, Chambre du Conseil exécutif, Concernant la nomination des membres du Conseil Provincial des Arts", November 22, 1961. E5 Conseil Exécutif, A.C. 2278/1961. Bibliothèque et Archives nationales du Québec.
Croteau, Jean-Philippe. Les Relations Entre Les Juifs De Langue Française Et Les Canadiens Français. Montréal: Université de Montréal, 2000.
Golden, Harvey. Report of the Consultant to the Jewish Public Library of Montreal, février 1970. JIAS collection, Director Joseph Kage records, series QE, box 013, folder 7. Canadian Jewish Congress Charities Committee National Archives.
Jedwab, Jack. "The Politics of Dialogue: Rapprochement Efforts Between Jews and French Canadians, 1939-1960." In Renewing Our Days: Montreal Jews in the Twentieth Century, edited by Ira Robinson and Mervin Butovsky. Montreal: Vehicule Press, 1995.
Langlais, Jacques, August 1999, interview with the author.
Laporte, Pierre. Imprimeur de la reine, 1966. Assemblée législative, Comité des crédits des Affaires culturelles,, Vol. 4 (1 et 2 mars 1966) pp. 1-67. Débats de l'Assemblée législative du Québec.
Margolis, John, June 24, 2010, interview with the author.
Mr. S. Hayes. "Memorandum to The National Joint Public Relations Committe", April 1948. Canadian Jewish Congress fonds, Series ZB (Personalia), David Rome, Box 1, Folder 15. Canadian Jewish Congress Charities Committee National Archives.
Perreaux, Les. "Serpa Pinto: Voyages of Life and Death." The Globe and Mail, n.d. http://www.theglobeandmail.com/news/national/article1138213.ece.
Rome, David, and Eiran Harris. "Autobiography, David Rome", 89 1988. Sound collection. Canadian Jewish Congress Charities Committee National Archives.
Scheinberg, Stephen J. "From Self-Help to National Advocacy: The Emergence of Community Activism." In From Immigration to Integration, edited by Ruth Klein and Frank Dimant. Toronto, Ont: Institute for International Affairs, B'nai Brith Canada, 2001.
Tulchinsky, Gerald. Canada's Jews: A People's Journey. University of Toronto Press, 2008.
Valiquette, Stéphane. Interview with Stéphane Valiquette on the subject of David Rome carried out by Luc Chartrand. Audio recording, 1999. Private collection of Luc Chartrand.
Yerushalmi, Yosef Hayim. Zakhor: Jewish History and Jewish Memory. University of Washington Press, 1996.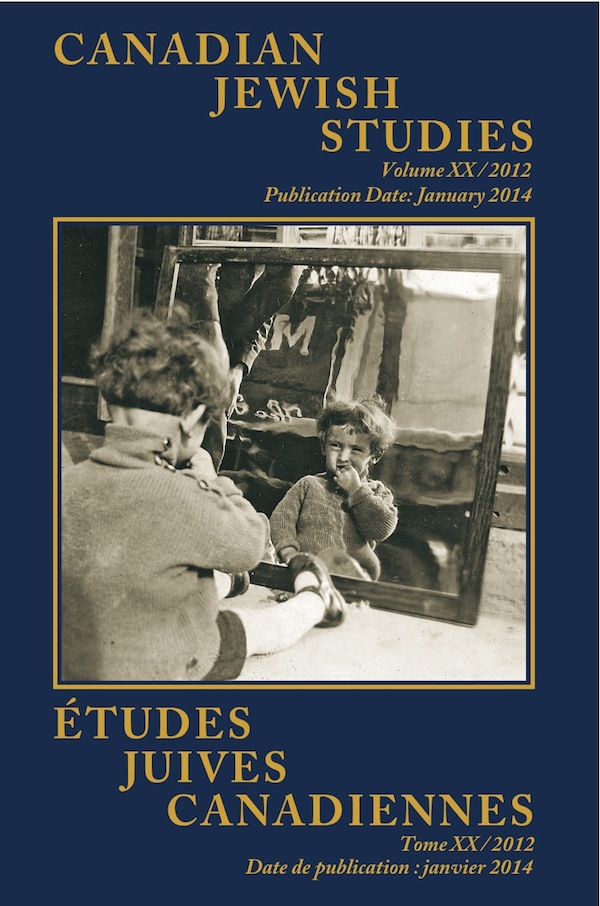 How to Cite
Gubbay Helfer, S. (2014). Rome Among the Bishops: An Immigrant Jew Explores The Unknown Worlds of French Canada. Canadian Jewish Studies / Études Juives Canadiennes, 20(1). https://doi.org/10.25071/1916-0925.36099
Section
Articles / Articles
Canadian Jewish Studies/ Études juives canadiennes is a journal dedicated to the open exchange of information; therefore the author agrees that the work published in the journal be made available to the public under a Creative Commons Attribution-Noncommercial-No Derivative Works 3.0 Unported License. The publisher (Association for Canadian Jewish Studies / Association des Études juives canadiennes) recognizes the author's intellectual property rights. The author grants the publisher first serial publication rights and the non-exclusive right to mount, preserve and distribute the intellectual property. The journal is digitized and published on the open access website  http://pi.library.yorku.ca/ojs/index.php/cjs/index.