"Wandering is your fate": Esther Shumiatcher-Hirschbein Writing Across Boundaries
Abstract
This essay provides an overview of the life and creative work of Esther Shumiatcher-Hirschbein, Yiddish poet and wife of Yiddish playwright Peretz Hirschbein. Shumiatcher-Hirschbein was a Jewish immigrant to Calgary at the turn of the twentieth century, and a member of a family that contributed in various ways to Canadian culture. Shumiatcher-Hirschbein left Canada with her husband, entering into a life of adventure and travel, and coming in contact with bohemian and artistic Yiddish circles around the world. Shumiatcher-Hirschbein's poetry, its reception by critics, and its relationship to her biography are all examined.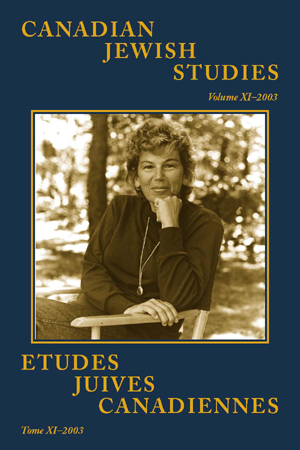 How to Cite
Jones, F. (2003). "Wandering is your fate": Esther Shumiatcher-Hirschbein Writing Across Boundaries. Canadian Jewish Studies / Études Juives Canadiennes, 11. https://doi.org/10.25071/1916-0925.19977
Canadian Jewish Studies/ Études juives canadiennes is a journal dedicated to the open exchange of information; therefore the author agrees that the work published in the journal be made available to the public under a Creative Commons Attribution-Noncommercial-No Derivative Works 3.0 Unported License. The publisher (Association for Canadian Jewish Studies / Association des Études juives canadiennes) recognizes the author's intellectual property rights. The author grants the publisher first serial publication rights and the non-exclusive right to mount, preserve and distribute the intellectual property. The journal is digitized and published on the open access website  http://pi.library.yorku.ca/ojs/index.php/cjs/index.