Between Suspicion and Censure: Attitudes towards the Jewish Left in Postwar Vancouver
Abstract
This article examines relations between the Vancouver Peretz Institute (VPI, a secular, Yiddish-based organization), the United Jewish People's Order (UJPO, a political group with close ties to the Communist Party of Canada), and Vancouver's mainstream Jewish community during the 1950s. Begun in the mid-1940s, as Vancouver's Jewish population was growing, the VPI and the Vancouver branches of the UJPO at first experienced little hostility and much active support from the larger Jewish community. In the early 1950s, under the pressures of anti-communist fervour then sweeping the United States and Canada, Canadian Jewish Congress expelled the UJPO nationally. Later, Vancouver's Jewish community expelled the UJPO from local umbrella organizations and from use of community resources. At the same time, the VPI, seen as not sufficiently religious or Zionist, was denied funding through the United Jewish Appeal. The article looks at these events, and considers the continuation of strained relations between the parties to the dispute.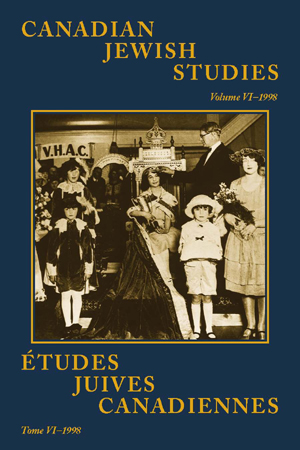 How to Cite
Jones, F. (1998). Between Suspicion and Censure: Attitudes towards the Jewish Left in Postwar Vancouver. Canadian Jewish Studies / Études Juives Canadiennes, 6. https://doi.org/10.25071/1916-0925.19832
Section
Articles / Articles
Canadian Jewish Studies/ Études juives canadiennes is a journal dedicated to the open exchange of information; therefore the author agrees that the work published in the journal be made available to the public under a Creative Commons Attribution-Noncommercial-No Derivative Works 3.0 Unported License. The publisher (Association for Canadian Jewish Studies / Association des Études juives canadiennes) recognizes the author's intellectual property rights. The author grants the publisher first serial publication rights and the non-exclusive right to mount, preserve and distribute the intellectual property. The journal is digitized and published on the open access website  http://pi.library.yorku.ca/ojs/index.php/cjs/index.