Such Stuff As Diaspora Dreams Are Made On: Birobidzhan and the Canadian-Jewish Communist Imagination
Abstract
This article examines the history of two organizations whose main aim was to provide support for the Soviet project to establish a Jewish socialist republic, the official language of which was to be Yiddish, in the Birobidzhan region of the USSR. ICOR was founded in 1924 and was active within the Jewish, immigrant, working-class milieu; Ambijan, in Canada called the Canadian Birobidjan Committee, was formed in the United States in 1934. Both groups were ideologically and organizationally tied to the Communist Party of Canada and operated for some three decades. They became ideologically marginal and politically irrelevant during the Cold War, especially after the Birobidzhan project was exposed as largely fraudulent. Both groups disbanded in the 1950s.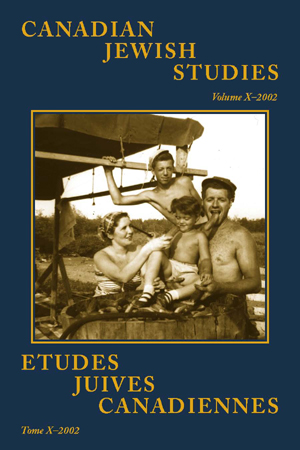 Downloads
How to Cite
Srebrnik, H. (2002). Such Stuff As Diaspora Dreams Are Made On: Birobidzhan and the Canadian-Jewish Communist Imagination. Canadian Jewish Studies / Études Juives Canadiennes, 10. https://doi.org/10.25071/1916-0925.19957
Section
Articles / Articles
License
Canadian Jewish Studies/ Études juives canadiennes is a journal dedicated to the open exchange of information; therefore the author agrees that the work published in the journal be made available to the public under a Creative Commons Attribution-Noncommercial-No Derivative Works 3.0 Unported License. The publisher (Association for Canadian Jewish Studies / Association des Études juives canadiennes) recognizes the author's intellectual property rights. The author grants the publisher first serial publication rights and the non-exclusive right to mount, preserve and distribute the intellectual property. The journal is digitized and published on the open access website  http://pi.library.yorku.ca/ojs/index.php/cjs/index.