Negotiating Ethnicity, Regionalism, and Historiography: Arthur A. Chiel and The Jews of Manitoba: A Social History
Abstract
In this paper, Richard Menkis analyzes the production and reception of the earliest scholarly monograph in Canadian Jewish history. By examining Chiel's intellectual formation, Menkis suggests that in his early communal work Chiel consciously chose a positive attitude which sought to combat despair, and that he brought that sensibility to his historical writing. Menkis also examines the context of the production of the narrative, namely the re-conception of Manitoba as a polyethnic society and the interest in ethnic histories at the Manitoba Historical Society. One of the major emphases in the Society was to show the "contributions" of the ethnic groups, which reinforced Chiel's inclination to ignore unhappy subjects, such as antisemitism. Although Chiel studied a number of factors in the development of the Jewish community, he also reproduced some of the "blind-spots" of other histories, especially the role of left-wing politics. Not surprisingly, he was harshly criticized by those who had been excised from the history. Chiel's work is thus also a product of a postwar climate in which the government began to encourage the engagement of ethnic groups with the society at large, but on certain conditions.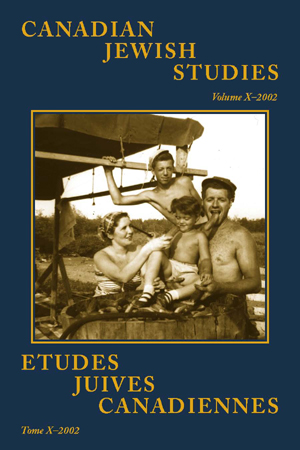 Downloads
How to Cite
Menkis, R. (2002). Negotiating Ethnicity, Regionalism, and Historiography: Arthur A. Chiel and The Jews of Manitoba: A Social History. Canadian Jewish Studies / Études Juives Canadiennes, 10. https://doi.org/10.25071/1916-0925.19954
Section
Articles / Articles
License
Canadian Jewish Studies/ Études juives canadiennes is a journal dedicated to the open exchange of information; therefore the author agrees that the work published in the journal be made available to the public under a Creative Commons Attribution-Noncommercial-No Derivative Works 3.0 Unported License. The publisher (Association for Canadian Jewish Studies / Association des Études juives canadiennes) recognizes the author's intellectual property rights. The author grants the publisher first serial publication rights and the non-exclusive right to mount, preserve and distribute the intellectual property. The journal is digitized and published on the open access website  http://pi.library.yorku.ca/ojs/index.php/cjs/index.