"His Notebook Grew Orchids and Weeds": Language, Burial, and Recovery in Anne Michaels's Fugitive Pieces
Keywords:
Holocaust, Literature
Abstract
Through the critical lens of trauma theory, this article explores Anne Michaels's recurrent imagery of archaeological and geological excavations; burial, drowning, and uncovering; and the inconsistencies, repetitions, and ruptures in language and memory prevalent in Holocaust narratives. By focusing on the image of the buried journal as a kind of grave and unearthing its layered narratives, this article argues for Fugitive Pieces as an excavation of language and memory, and that it functions as a unique type of Holocaust narrative that seeks healing through reinterpreted ideas of place, geography, the body, absence, and displacement.

À travers le prisme critique de la théorie du traumatisme, cet article explore l'imagerie récurrente d'Anne Michaels des fouilles archéologiques et géologiques, de l'enfouissement, de la noyade et de la mise au jour, ainsi que les incohérences, les répétitions et les ruptures dans le langage et la mémoire qui prévalent dans les récits de l'Holocauste. En se concentrant sur l'image du journal enterré comme une sorte de tombe et en déterrant ses récits superposés, cet article soutient que Fugitive Pieces est une excavation du langage et de la mémoire, et qu'il fonctionne comme un type unique de récit de l'Holocauste qui cherche à guérir à travers des idées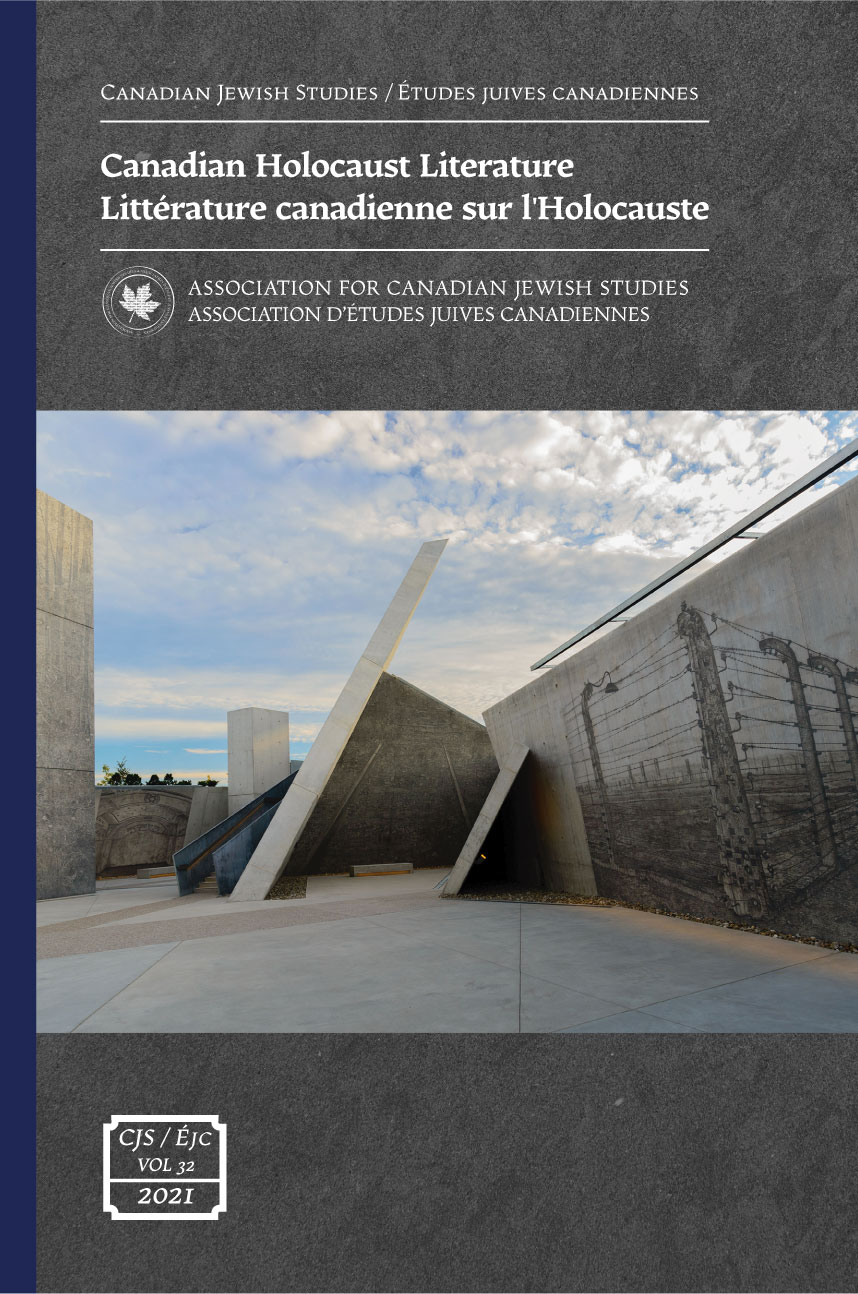 Downloads
Published
2021-10-25 — Updated on 2021-10-31
How to Cite
Monahan, S. (2021). "His Notebook Grew Orchids and Weeds": Language, Burial, and Recovery in Anne Michaels's Fugitive Pieces. Canadian Jewish Studies Études Juives Canadiennes, 32, 99–112. https://doi.org/10.25071/1916-0925.40244 (Original work published October 25, 2021)
Section
Articles / Articles
License
Canadian Jewish Studies/ Études juives canadiennes is a journal dedicated to the open exchange of information; therefore the author agrees that the work published in the journal be made available to the public under a Creative Commons Attribution-Noncommercial-No Derivative Works 3.0 Unported License. The publisher (Association for Canadian Jewish Studies / Association des Études juives canadiennes) recognizes the author's intellectual property rights. The author grants the publisher first serial publication rights and the non-exclusive right to mount, preserve and distribute the intellectual property. The journal is digitized and published on the open access website  http://pi.library.yorku.ca/ojs/index.php/cjs/index.