Removing the Stain: a Jewish Volunteer's Perspective in World War Two
Abstract
Military service, seen as the ultimate test of citizenship, was a challenge to minority groups in Canada in World War II, not least to Jews. One response to this challenge is illustrated by the letters and diaries of Joe Jacobson of Montreal, who enlisted in the air force in 1940. Believing that the stain of antisemitism could be combated by personal action, he regarded service at the sharp end of battle not simply as an opportunity to remove that stain, but also as a necessity for Jewish honour and survival. Over the course of his air force training in Canada, and his combat service overseas, he became highly critical of Jews he regarded as letting down the side by failing to act with the same commitment. Jacobson's experience is assessed in the context of Canadian Jewish opinion and action at the time.
Le service militaire, souvent considéré comme le dernier test d'allégeance et de citoyenneté, était un défi pour de nombreuses minorités canadiennes pendant la Seconde Guerre mondiale, en particulier pour les Juifs. Les lettres et le journal du montréalais Joe Jacobson qui s'est enrôlé dans l'Armée de l'air en 1940 illustrent une des réponses à ce défi. Convaincu que la souillure de l'antisémitisme pouvait être combattue à l'échelle individuelle, il considérait son service n'était pas seulement une opportunité de faire disparaître cette souillure mais aussi une nécessité pour la survie et l'honneur juifs. Tout au long de sa formation au sein de l'Armée de l'air et de son service outre-mer, il s'est montré très critique des Juifs qui n'agissaient pas avec la même détermination que lui. L'expérience de Jacobson est analysée ici dans le contexte de l'opinion et de l'action juives de son époque.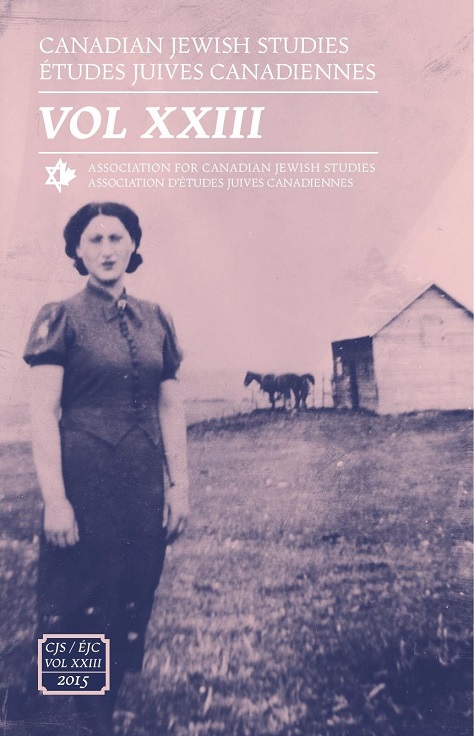 Downloads
How to Cite
Usher, P. J. (2015). Removing the Stain: a Jewish Volunteer's Perspective in World War Two. Canadian Jewish Studies / Études Juives Canadiennes, 23. https://doi.org/10.25071/1916-0925.39928
Section
Articles / Articles
License
Canadian Jewish Studies/ Études juives canadiennes is a journal dedicated to the open exchange of information; therefore the author agrees that the work published in the journal be made available to the public under a Creative Commons Attribution-Noncommercial-No Derivative Works 3.0 Unported License. The publisher (Association for Canadian Jewish Studies / Association des Études juives canadiennes) recognizes the author's intellectual property rights. The author grants the publisher first serial publication rights and the non-exclusive right to mount, preserve and distribute the intellectual property. The journal is digitized and published on the open access website  http://pi.library.yorku.ca/ojs/index.php/cjs/index.