Gender, Jewish Identity, and Cultural Memory in the Poetry of Rhea Tregebov
Abstract
Rhea Tregebov's self consciousness as a woman facilitated her developing self consciousness as a Canadian Jew, a process recorded in her five books of poetry. In the course of this work, her reflections on the social meanings of motherhood are particularly important. When insights about the parent-child bond are transferred to reflections about the meanings of modern Jewish history, particularly the Holocaust, the poet's understanding of her role is extended. The result is an ambitious collection of elegies in which she changes the structure of mourning specific to that genre.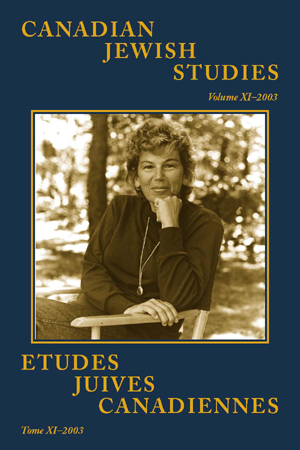 Downloads
How to Cite
Hollenberg, D. K. (2003). Gender, Jewish Identity, and Cultural Memory in the Poetry of Rhea Tregebov. Canadian Jewish Studies Études Juives Canadiennes, 11. https://doi.org/10.25071/1916-0925.19980
Section
Articles / Articles
License
Canadian Jewish Studies/ Études juives canadiennes is a journal dedicated to the open exchange of information; therefore the author agrees that the work published in the journal be made available to the public under a Creative Commons Attribution-Noncommercial-No Derivative Works 3.0 Unported License. The publisher (Association for Canadian Jewish Studies / Association des Études juives canadiennes) recognizes the author's intellectual property rights. The author grants the publisher first serial publication rights and the non-exclusive right to mount, preserve and distribute the intellectual property. The journal is digitized and published on the open access website  http://pi.library.yorku.ca/ojs/index.php/cjs/index.