"I," "Unknown": Female Subjectivity in Miriam Waddington's Early Life Writing and Green World (1945)
Abstract
This essay examines the early life writing and poetry of Miriam Waddington with the goal of contributing to a reevaluation of second wave Canadian modernism. More specifically, it uses journals, unpublished poems, and Waddington's Master's thesis (in Social Work) as a means of contextualizing the "inner underground life" of a writer who is both Jewish and female. In doing so, this essay has two purposes: the first is to offer an account of the material relevant to this study found in the early unpublished material in the Waddington Papers held in Library and Archives Canada, and second, to explore female subjectivity in both the unpublished life writing and in Green World.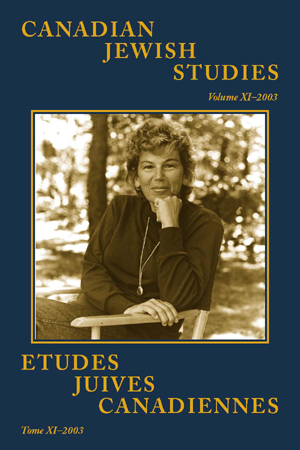 How to Cite
McLauchlan, L. (2003). "I," "Unknown": Female Subjectivity in Miriam Waddington's Early Life Writing and Green World (1945). Canadian Jewish Studies / Études Juives Canadiennes, 11. https://doi.org/10.25071/1916-0925.19979
Canadian Jewish Studies/ Études juives canadiennes is a journal dedicated to the open exchange of information; therefore the author agrees that the work published in the journal be made available to the public under a Creative Commons Attribution-Noncommercial-No Derivative Works 3.0 Unported License. The publisher (Association for Canadian Jewish Studies / Association des Études juives canadiennes) recognizes the author's intellectual property rights. The author grants the publisher first serial publication rights and the non-exclusive right to mount, preserve and distribute the intellectual property. The journal is digitized and published on the open access website  http://pi.library.yorku.ca/ojs/index.php/cjs/index.