Chava Rosenfarb: The Yiddish Woman Writer in the Post-Holocaust World
Abstract
Chava Rosenfarb has been considered one of the great Yiddish writers of her generation. But because she has written primarily in Yiddish, her name and work are hardly known to English-speaking readers, despite the fact that she has lived in Canada for over 50 years. This essay gives an overview of Rosenfarb's life and career, suggesting that it is as a Yiddish writer rather than as a woman that Rosenfarb has felt most discriminated against.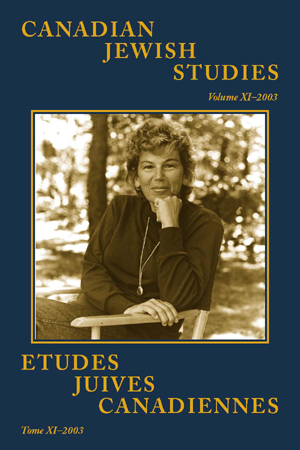 How to Cite
Morgentaler, G. (2003). Chava Rosenfarb: The Yiddish Woman Writer in the Post-Holocaust World. Canadian Jewish Studies / Études Juives Canadiennes, 11. https://doi.org/10.25071/1916-0925.19978
Canadian Jewish Studies/ Études juives canadiennes is a journal dedicated to the open exchange of information; therefore the author agrees that the work published in the journal be made available to the public under a Creative Commons Attribution-Noncommercial-No Derivative Works 3.0 Unported License. The publisher (Association for Canadian Jewish Studies / Association des Études juives canadiennes) recognizes the author's intellectual property rights. The author grants the publisher first serial publication rights and the non-exclusive right to mount, preserve and distribute the intellectual property. The journal is digitized and published on the open access website  http://pi.library.yorku.ca/ojs/index.php/cjs/index.