Tradition and Innovation in an Ultra-Orthodox Community: The Hasidim Of Outremont
Abstract
Like other insular religious movements such as Hutterites and Amish, Hasidic communities are faced with the challenge of preserving their distinctive ideals in a technologically advanced, capitalist world. Studies done in the 1960s and 1970s documented the success of Hasidim in safeguarding their convictions and creating well-functioning communities in contemporary North America. Recent evidence has demonstrated, however, that unprecedented growth rates are presenting significant challenges to Hasidim trying to sustain their way of life. Focusing on a case-study of the Hasidic community of Outremont, a residential neighbourhood in central Montreal, this paper outlines the social and economic challenges facing the community and argues that, while some important changes have been implemented, there is a need to modify survival strategies further in order to maintain community viability.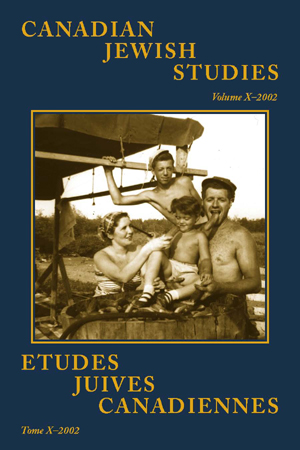 Downloads
How to Cite
Schnoor, R. F. (2002). Tradition and Innovation in an Ultra-Orthodox Community: The Hasidim Of Outremont. Canadian Jewish Studies / Études Juives Canadiennes, 10. https://doi.org/10.25071/1916-0925.19956
Section
Articles / Articles
License
Canadian Jewish Studies/ Études juives canadiennes is a journal dedicated to the open exchange of information; therefore the author agrees that the work published in the journal be made available to the public under a Creative Commons Attribution-Noncommercial-No Derivative Works 3.0 Unported License. The publisher (Association for Canadian Jewish Studies / Association des Études juives canadiennes) recognizes the author's intellectual property rights. The author grants the publisher first serial publication rights and the non-exclusive right to mount, preserve and distribute the intellectual property. The journal is digitized and published on the open access website  http://pi.library.yorku.ca/ojs/index.php/cjs/index.