Le Soleil, the Quebec Chronicle Telegraph and Jewish Immigration 1925-1939
Abstract
Interwar Quebec society was imbued with a current of antisemitism that revealed itself both during the school crisis in the 1920s, and during the debate over Jewish refugees in the 1930s. The nationalist and Catholic press ferociously opposed Jewish requests regarding education, as well as Jewish immigration into Canada. Current historiography has focussed on the "ideological" press with regards to these various issues. This article offers a different perspective by examining the positions of the popular francophone and anglophone presses in the city of Quebec on the question of Jewish immigration. A systematic examination of the Soleil and the Quebec Chronicle Telegraph between the years 1925 and 1939 reveals common opposition to Jewish immigration, but different attitudes towards the Jews. While the Soleil adopted a stance with antisemitic attitudes, the Quebec Chronicle Telegraph did not speak offensively of the Jews.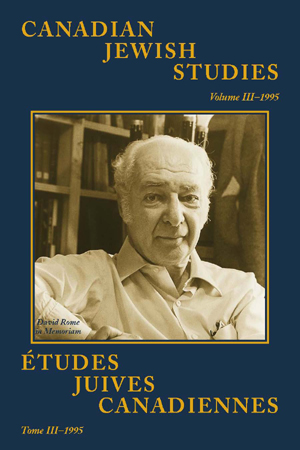 How to Cite
Hébert, M. (1995). Le Soleil, the Quebec Chronicle Telegraph and Jewish Immigration 1925-1939. Canadian Jewish Studies / Études Juives Canadiennes, 3. https://doi.org/10.25071/1916-0925.19796
Section
Articles / Articles
Canadian Jewish Studies/ Études juives canadiennes is a journal dedicated to the open exchange of information; therefore the author agrees that the work published in the journal be made available to the public under a Creative Commons Attribution-Noncommercial-No Derivative Works 3.0 Unported License. The publisher (Association for Canadian Jewish Studies / Association des Études juives canadiennes) recognizes the author's intellectual property rights. The author grants the publisher first serial publication rights and the non-exclusive right to mount, preserve and distribute the intellectual property. The journal is digitized and published on the open access website  http://pi.library.yorku.ca/ojs/index.php/cjs/index.