The Jews of Canada and Argentina before World War II: The Impact of Immigration and Industrialization Policies on the Formation of Two Diasporas
Abstract
This study engages in a comparative analysis of the economic and immigration policies of Canada and Argentina, and analyzes the impact that these policies had on the formation of their respective Jewish communities. The results suggest that any proper analysis of the two communities must take into consideration both the political and economic characteristics of the receiving country and the distinctive traits of the waves of Jewish immigrants.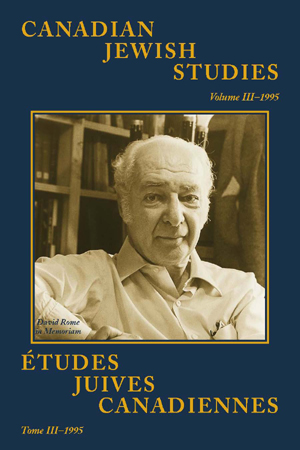 How to Cite
Avni, H. (1995). The Jews of Canada and Argentina before World War II: The Impact of Immigration and Industrialization Policies on the Formation of Two Diasporas. Canadian Jewish Studies / Études Juives Canadiennes, 3. https://doi.org/10.25071/1916-0925.19795
Section
Articles / Articles
Canadian Jewish Studies/ Études juives canadiennes is a journal dedicated to the open exchange of information; therefore the author agrees that the work published in the journal be made available to the public under a Creative Commons Attribution-Noncommercial-No Derivative Works 3.0 Unported License. The publisher (Association for Canadian Jewish Studies / Association des Études juives canadiennes) recognizes the author's intellectual property rights. The author grants the publisher first serial publication rights and the non-exclusive right to mount, preserve and distribute the intellectual property. The journal is digitized and published on the open access website  http://pi.library.yorku.ca/ojs/index.php/cjs/index.